Estepa Mantecados
What is ice cream? It's a typical Christmas sweet of Andalusian pastries. The origin of this delight is found in Estepa, specifically in the Convent of Santa Clara. It is known that the first recipe for mantecado was born here because estimates dating from 1780 are preserved in which the nuns commission a neighbor, Juan Borrego, to buy them several arrobas of sugar, bushels of cocoa and pounds of cinnamon.
Estepa, located in the southeast of the province of Seville, concentrates all the industries that are dedicated to the production and packaging of polvorones and mantecados included in the Protected Geographical Indication, "Polvorones de Estepa" and " Estepa Mantecados ".
The secret of our mantecados are centered on three fundamental pillars: the quality of our raw materials, respect for the recipes of our ancestors and the human team in charge of turning the above into exquisite products that satisfy the most demanding palates.
What do the mantecados contain
The mass of the mantecados is obtained from a mixture of wheat flour, lard, and icing sugar . They do not have almonds and its characteristic coverage, especially in homeowners, is usually the sesame (Sesame seeds). In the case of the "Mantecados de Estepa" made from olive oil, the butter will be replaced by olive oil. extra virgin olive .
Unlike polvorones, mantecados usually complement their main ingredients with others, thus giving rise to mantecados of different flavors : chocolate, lemon, cinnamon, coconut …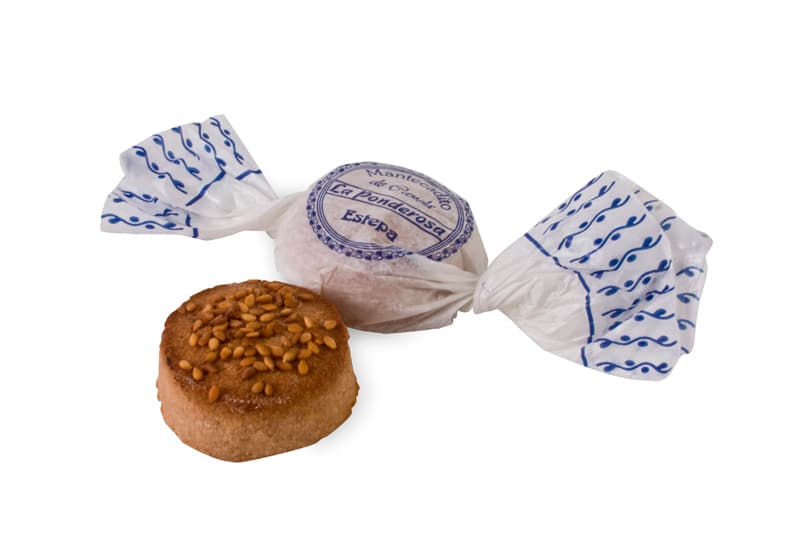 Where to buy Estepa mantecados
Our factory and store is located in: Avenida Andalucia 227, 41560, Estepa . Working since 1955 to offer our customers products of great quality and flavor.
One of our added values is the human team behind the development of each of our products. its professionalism and dedication coupled with the use of top quality raw materials and the artisanal elaboration , make Dulces La Ponderosa products a snack with a traditional aroma and incomparable flavor.
At Dulces La Ponderosa the important thing is our customers, that is why we adapt to the new times with our Online store, where we sell the traditional Estepa ice cream , in addition to other products. We bring the best homemade mantecados from Estepa to your home. We also have experience of selling abroad, so you can enjoy this delicious Christmas sweet anywhere in the world.
Types of Estepa mantecados