Estepa Christmas Assortments
What are steppe Christmas assortments? Are a selection of our products, presented in different formats, case, gift box, basket … An assortment of our specialties, homemade mantecados, our handmade polvorones … It will certainly be the best choice to fill your table with flavor at Christmas.
In addition, in our online store you can also find our selection of sugar-free steppe Christmas assortments. All the flavor of our traditional products without added sugar.
At Dulces La Ponderosa we elaborate our assortments with all our affection: from the selection of products, placement … as well as presentation, with our precious baskets, cans, decorative plates … Because What better gift to give at Christmas than such a nice sweet detail.
OUR ASSORTMENTS
CHRISTMAS IN ESTEPA
What do the Christmas Assortments contain
Our selection of more traditional Christmas products such as; Almond alfajores, homemade polvorón, mantecados, wine donuts, nougat, chocolates, as well as the favorite specialties of our customers, roscochoco, crunchy bonbon, almonds stuffed with almonds, almond sabrinas …
For the more traditional, our gift boxes contain only La Ponderosa homemade products par excellence, mantecados and polvorones.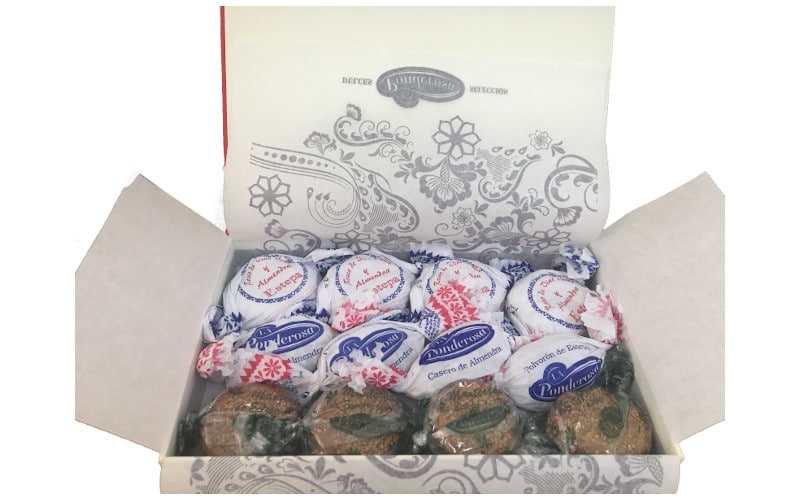 Where to buy Christmas Assortments from Estepa
Our factory and store is located in: Avenida Andalucia 227, 41560, Estepa . In it you will have available all our Christmas assortments, as well as you can find our products in bulk to be able to make your own assortment with your favorite products.
Since 1955 we have worked to offer our customers the highest quality in our products, as well as excellent treatment Therefore, we will be delighted for you to visit us and help you with whatever is necessary.
On our online store, you have availability of all our Christmas assortments. In addition, as we ship both to Spain and abroad, you can enjoy your La Ponderosa products from anywhere.